Check out the official trailer for Mission: Impossible – Dead Reckoning Part One, the highly anticipated 2023 movie starring Tom Cruise.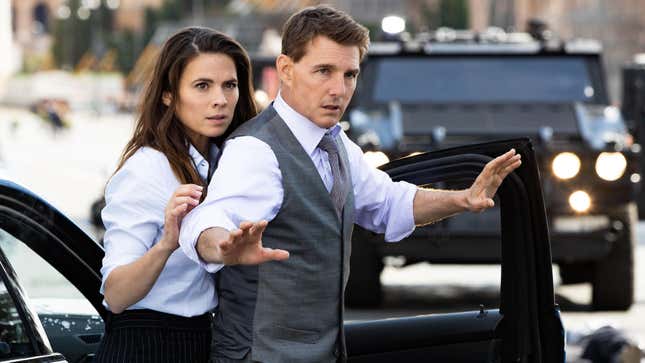 Now just Check out the official trailer for Mission: Impossible – Dead Reckoning Part One, the highly anticipated 2023 movie starring Tom Cruise.
Get ready, because Mission: Impossible – Dead Reckoning Part 1 hits theaters on July 12, and we've got a brand new trailer for you. It's the first one since last year, and it's finally here. In this thrilling preview, you'll catch a glimpse of Tom Cruise reprising his role as everyone's favorite former IMF agent. Joining him are returning cast members Ving Rhames, Simon Pegg, Rebecca Ferguson, and Vanessa Kirby, who have won our hearts in previous installments. But that's not all. This time, they are joined by a talented roster of newcomers, including Hayley Atwell, Esai Morales, Pom Klementieff, and many more. Trust us, you won't want to miss their performances in the latest epic trailer crafted by Cruise and the brilliant writer-director Christopher McQuarrie.
Get ready to buckle up for another adrenaline-fueled, action-packed Mission: Impossible experience. The countdown to July 12 begins now.
Check out the official trailer for Mission: Impossible – Dead Reckoning Part One, the highly anticipated 2023 movie starring Tom Cruise. While the trailer leaves us with some unanswered questions, such as why Ethan Hunt needs to jump off a cliff while searching for a mysterious key, it only adds to the excitement and intrigue surrounding the film. Originally announced in 2019 with a 2021 release date, the production faced delays due to the impact of Covid and other factors. However, the wait is finally over, and we can now witness the culmination of this epic adventure.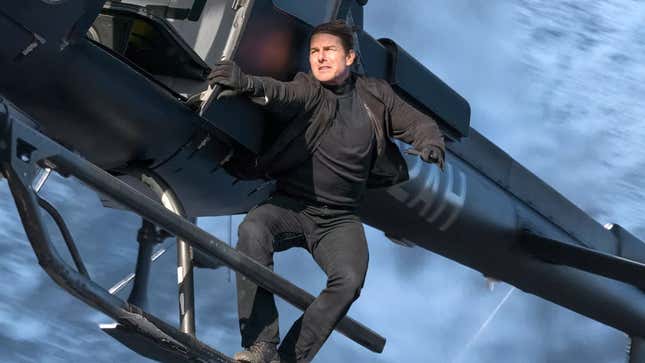 Interestingly, the story doesn't end with Dead Reckoning Part One. There's even more in store for Mission: Impossible fans. Dead Reckoning Part Two is set to wrap up this captivating storyline and, perhaps, Ethan Hunt's entire journey. Scheduled for release on June 28, 2024, this sequel promises to deliver an unforgettable conclusion. While it remains speculative, it wouldn't be surprising if a teaser or trailer for Part Two accompanies the release of Part One, leaving us eagerly anticipating the next installment.
Mission: Impossible 7 is set to feature what is being hailed as potentially the biggest stunt in movie history. Known for its jaw-dropping action sequences, the Mission: Impossible franchise has consistently pushed the boundaries of what is physically possible on-screen. However, this upcoming installment takes it to a whole new level.
While details surrounding the specific stunt are being kept tightly under wraps, early reports suggest that it involves a daring and unprecedented combination of practical effects, special effects, and Tom Cruise's unwavering dedication to performing his own stunts. Cruise, known for his fearless commitment to delivering authentic and thrilling action sequences, has become synonymous with the Mission: Impossible franchise's high-octane stunts.
Given the franchise's track record of delivering adrenaline-pumping moments, the promise of an even grander spectacle in Mission: Impossible 7 has fans buzzing with anticipation. As the release date approaches, moviegoers and action enthusiasts alike are eagerly waiting to witness this monumental stunt and see how it will raise the bar for future action films.
Over the course of a year, Tom Cruise dedicated himself to extensive training for the monumental stunt in Mission: Impossible 7. He completed approximately 500 skydives, including days where he performed up to 30 jumps, and accomplished a staggering 13,000 motocross jumps on a specially constructed track. This rigorous training ensured that Cruise became an expert not only in base jumping and parachuting but also in motocross, all of which were essential for executing the stunt flawlessly.
ALSO READ THIS;  The Astonishing Return of Paul Walker: Director Reveals How Fast X Brings Back Brian O'Conner http://infoholly.com/the-astonishing-…ck-brian-oconner/
However, performing the stunt was just one part of the equation. Director Christopher McQuarrie and his team were determined to capture every thrilling moment on film. While Cruise was training, the film crew was busy testing new cameras, lenses, cutting-edge technologies, and drones to ensure they could film the stunt with utmost precision. After all, it would be a disservice to audiences if they couldn't see Cruise's incredible feat on the screen after a year of intense preparation. To aid in the planning, McQuarrie's team created a model of the ramp used in the stunt, allowing Cruise to run simulations with a special GPS chip. These simulations helped calculate and predict various trajectories, including Cruise's potential exit points from the bike and the bike's landing spot.
Simultaneously, the actual ramp had to be constructed in a remote location in Norway. Every single component of the ramp had to be transported via helicopter due to the location's inaccessibility. Months of meticulous construction and preparation culminated in Day One of filming Mission: Impossible 7, where they aimed to tackle the film's most ambitious stunt right away. The image provided showcases the impressive ramp that was built for this momentous sequence.