"Chris Hemsworth's 'Extraction 2' Fails to Live Up to Expectations"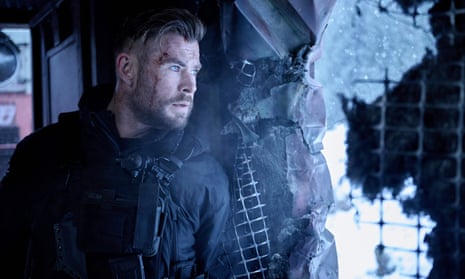 Netflix has established a unique niche by reviving genres that major studios have largely abandoned, such as mid-budget thrillers or romantic comedies. In 2020, they took a bold step into the fading realm of intense action movies with "Extraction."
And it largely succeeded, as stuntman-turned-director Sam Hargrave skillfully delivered a blend of seamless and intense action sequences throughout the film. Despite some narrative shortcomings, such as Chris Hemsworth's lead character lacking depth compared to other characters, "Extraction" managed to captivate viewers thanks to its well-maintained pace and compelling fight scenes.
This time, Tyler Rake (Hemsworth), an Australian Special Air Service veteran-turned-mercenary, miraculously survives severe injuries from the previous film and finds himself reluctantly pulled back into the world of extractions. His mission is to rescue his ex-wife's sister and her children, who are trapped in a Georgian prison with their criminal father. Complicating matters, the crime boss's brother is in hot pursuit of them.
"Chris Hemsworth's 'Extraction 2' Fails to Live Up to Expectations"
While the shift from Bangladesh to Georgia and Austria brings a different ambiance to the sequel, it unfortunately falls somewhat flat. The finale, set in an empty warehouse, feels confined and lacks the grand scale, giving it a direct-to-video quality. The focus on the other mercenaries Rake collaborates with and the family drama surrounding his relatives receives more attention, but neither aspect brings anything particularly innovative to the table. Although Rake has a more personal storyline this time, he mostly serves as a vehicle for action rather than a fleshed-out character. It's not a critique of Hemsworth's performance; the character itself lacks depth
Nevertheless, the film's strength lies in its action sequences. Hargrave displays genuine ambition in this department. In the first "Extraction," we witnessed intense gunfights and fistfights in Dhaka, including a remarkable long-take chase scene. In the sequel, Hargrave surpasses that achievement with a 21-minute long-take (obviously stitched together from multiple shots, but maintaining a seamless flow) that takes audiences and Rake through a gripping prison escape, riot, and a gunfight on a train. It's undeniably thrilling. However, similar to the first film, "Extraction 2" reaches its peak with this sequence.
As the film progresses, the dramatic lulls begin to disrupt the pacing, and even the later fight scenes, including the creative ones set inside an isolated Austrian skyscraper, fail to recapture the same energy. Unlike the gun fu spectacle showcased in this year's earlier action masterpiece, "John Wick: Chapter 4," the fights in "Extraction 2" take on a grittier and more brutal approach to combat. While this approach generally succeeds in delivering a rough and tumble experience, it lacks the suspense and tension that made the first movie compelling.
Never thought I'd be doing an ASMR video… #Extraction2 has me punching steaks and breaking celery bones 😂 https://t.co/YGhX19nMyS

— Chris Hemsworth (@chrishemsworth) June 15, 2023
Nevertheless, akin to its predecessor, "Extraction 2" provides a decent two-hour action distraction for viewers.Once again, Chris Hemsworth returns as the rugged protagonist in Netflix's expanding Extraction franchise, his strikingly handsome features contorted into a determined yet somewhat sensitive expression. Screenwriter Joe Russo and director Sam Hargrave have reunited to generate another hefty serving of action-packed content, with Hemsworth reprising his role as Tyler Rake, the tough mercenary with a compassionate side.
Surprisingly, Rake, who we presumed dead at the end of the previous film, was merely severely injured and is miraculously revived in an excessively hasty montage at the start of this installment. After a brief stay at a luxurious private hospital in Dubai, Tyler is restored to full health and summoned to rescue his ex-wife's sister and her children from the clutches of her abusive husband, a powerful Georgian mob boss.
May @chrishemsworth reign! The #Extraction2 star deep-dives into his blockbuster Netflix franchise, those "over-dramatized" retirement reports, and much more. https://t.co/HNmrdsGiqt Story by @devancoggan pic.twitter.com/l95iUXMpDe

— Entertainment Weekly (@EW) June 15, 2023
Nik (played by Golshifteh Farahani), Rake's handler, also makes a return, this time engaging in more hands-on combat, including close-quarters martial arts maneuvers and discreetly dispatching adversaries with a small serrated knife, although fighting prowess may not be Farahani's strong suit. Our hero finds himself dangling perilously from the sides of towering glass structures on several occasions, although his feats do not quite reach the level of Tom Cruise's aerial stunts.