Tamannaah Bhatia Opens Up About Working with Vijay Varma in Lust Stories 2: A Sense of Security in Intimate Scenes
Tamannaah Bhatia and Vijay Varma Team Up for Sujoy Ghosh's Segment in Lust Stories 2: A Sense of Security in Intimate Scenes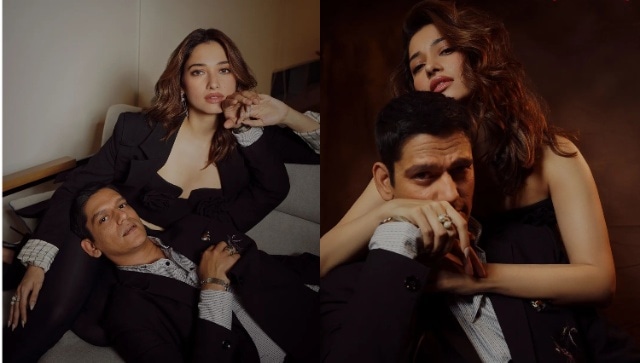 Tamannaah Bhatia Breaks Her No-Kissing Policy for Vijay Varma in Lust Stories 2; Sujoy Ghosh Directs Their Segment
Tamannaah Bhatia, known for her no-kissing policy onscreen, recently made an exception for her boyfriend Vijay Varma in the anthology Lust Stories 2. Directed by Sujoy Ghosh, their segment in the series explores a new dynamic in their relationship.
In a recent interview with Bollywood Bubble, Tamannaah opened up about her experience shooting an intimate scene with Vijay. She expressed her admiration for him, stating that she had never felt safer working with any other actor. According to her, feeling secure is crucial for an actor, especially when portraying vulnerable scenes. Vijay's ability to create a comfortable environment allowed Tamannaah to fully immerse herself in the role and express her emotions without hesitation.
"He just made it feel so easy. From the moment go, he made me feel so safe that I wasn't scared to say anything, do anything, or emote in a certain way," shared Tamannaah. She further expressed her appreciation for his support and credited him for making the entire experience enjoyable and effortless.
Tamannaah also recently confirmed her relationship with Vijay, describing him as her "happy place." Their collaboration in Lust Stories 2 appears to have deepened their bond both on and off the screen.
Tamannaah Bhatia's Initial Impression of Vijay Varma: An Actor of Consistency and Versatility
During an interview with News 18, Tamannaah Bhatia shared her first impression of Vijay Varma, expressing her excitement to work with him in Lust Stories 2. She acknowledged his consistent and diverse performances, describing him as a chameleon in his approach to characters. Having closely followed his previous work, Tamannaah expressed her admiration for Vijay's talent and expressed a desire to learn from him and Sujoy Ghosh, the director.
"I definitely thought I'm going to get a chance to work with an actor who's been so consistent in delivering performances which are so diverse and so powerful. He's quite a chameleon the way he approaches a character. I've seen all his work from his past. I was like, 'If nothing else happens in this project, I'd rather learn something from the two of them,' referring to Vijay and Sujoy," shared Tamannaah. Her decision to join the project was driven by the opportunity to collaborate with talented individuals and gain valuable insights from their expertise.

Lust Stories 2: A Star-Studded Cast Including Amruta Shubhash, Angad Bedi, Kajol, Kumud Mishra, Mrunal Thakur, Neena Gupta, and Tillotama Shome
The highly anticipated Lust Stories 2 boasts an impressive ensemble cast, featuring renowned actors such as Amruta Shubhash, Angad Bedi, Kajol, Kumud Mishra, Mrunal Thakur, Neena Gupta, and Tillotama Shome. Each actor brings their unique talent and charm to the anthology, contributing to the diverse narratives explored in the series.
Set to premiere on Netflix on June 29th, Lust Stories 2 promises to captivate audiences with its compelling storytelling and exceptional performances. Viewers can anticipate a thought-provoking and engaging viewing experience as these talented actors bring their characters to life in this highly anticipated sequel.

Zendaya and Tom Holland's blockbuster picture with Shah Rukh Khan and Salman Khan
Lust Stories 2, the highly anticipated sequel, boasts a stellar lineup of directors including Amit R Sharma, R Balki, Sujoy Ghosh, and Konkona Sensharma. While the trailer leaves us guessing about the specific directorial contributions, one thing is certain: these talented filmmakers have come together to deliver an intriguing anthology. Just like its predecessor, Lust Stories 2 is produced by Ronnie Screwvala's RSVP Movies and Ashi Dua's Flying Unicorn Entertainment, guaranteeing a blend of creativity and quality. Mark your calendars, as the film is set to release on Netflix India on June 29, promising an enthralling cinematic experience.