"Unmissable Moments: Witness Ram Charan's Beaming Smile and Upasana Kamineni's Joy as They Embark on the Journey of Welcoming the Mega Princess [Watch Video]"
"Must-See Viral Video: Upasana Kamineni Radiates Joy as Ram Charan Exudes Excitement, Embarking on Their Journey to Parenthood – A Blissful Pre-Birth Moment!"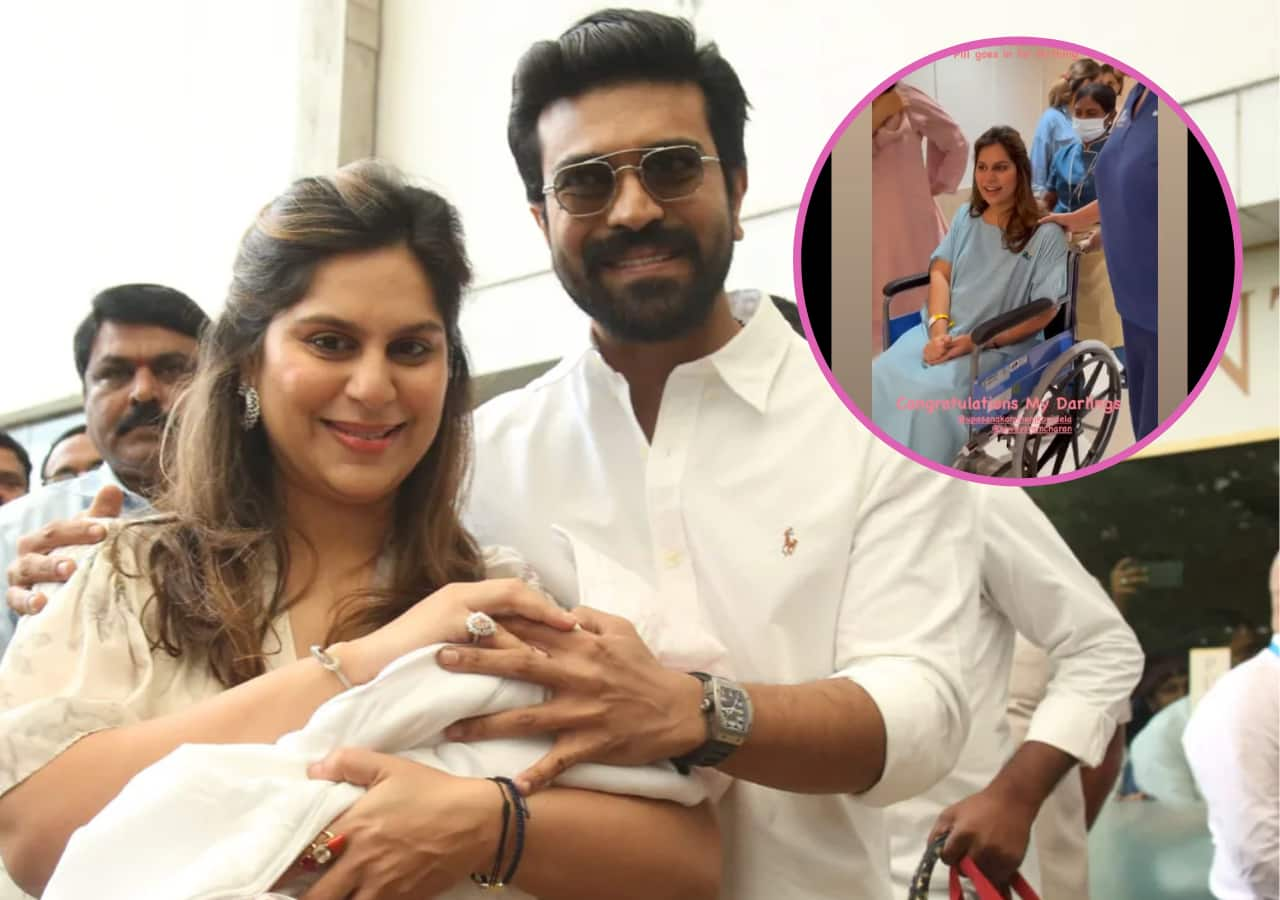 "Joyous News: Ram Charan and Upasana Kamineni Embrace Parenthood, Welcoming Their Baby Girl Five Days Ago! The Lovebirds' Long-Awaited Moment Has Finally Arrived. After Over a Decade of Marriage, Upasana and Ram Charan's Dreams Come True with the Arrival of their Beloved 'Mega Princess.' Don't Miss the Viral Video Capturing Upasana's Journey to the Delivery Room!"
"Radiant Smiles and Overflowing Joy: Ram Charan and Upasana Kamineni Enter the Delivery Room, Welcoming the Gift of Parenthood. The proud parents are now blessed with a beautiful baby girl. A captivating video, shared by their close friend Meha Patel, has taken the entertainment news by storm. In the footage, Upasana is elegantly dressed in her labor attire, accompanied by her loved ones, as she is gently wheeled into the labor room by the caring hospital staff. Ram Charan, brimming with excitement, leads the way, but his contagious smile towards the end, captured by Meha, is simply unfor
Watch the video of Ram Charan and Upasana before Mega Princess arrived here:
Upasana Kamineni recently took to her Instagram stories to share a heartfelt video and reminisce about one of the most precious moments of her life. She captioned the post, "5 days ago. It was the happiest moment of our lives! We were surrounded by an overwhelming amount of love," accompanied by a red heart emoticon. Upasana affectionately refers to the people around her as her "laughing gas," emphasizing their infectious joy and positive energy.
In the video, Upasana's close friend Meha, referred to as 'happie pill' in the caption, can be seen sharing in the joyous occasion. To catch a glimpse of these heartfelt moments, feel free to check out the snapshots of Upasana Kamineni's Instagram stories here: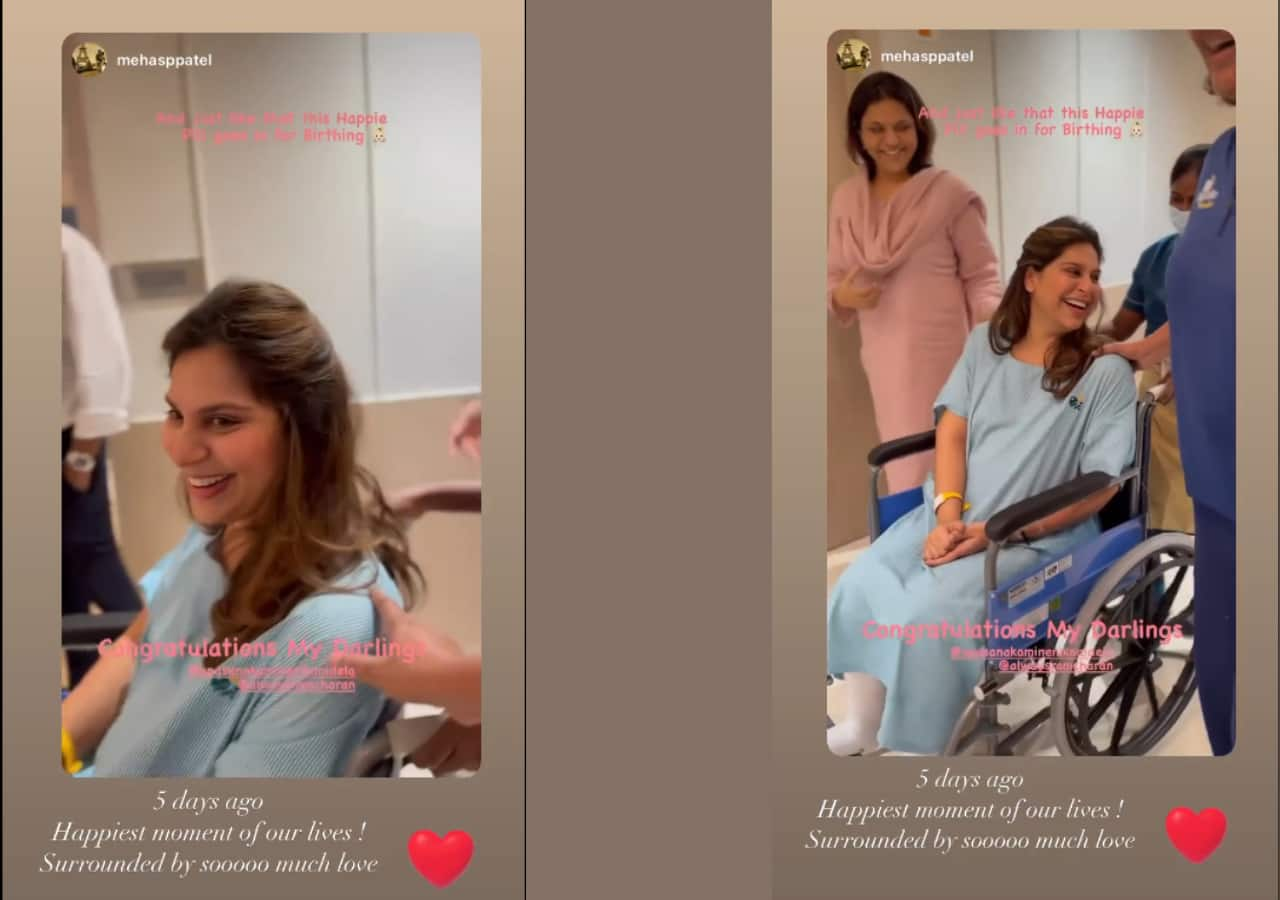 The newborn baby girl has been lovingly bestowed with the name "Mega Princess" by her doting grandfather, the renowned megastar Chiranjeevi. The entire family is overjoyed with this precious addition and couldn't be happier. Ram Charan and Upasana, right after their marriage, made the decision to freeze eggs, affirming their stance against societal expectations of immediate parenthood. Upasana takes great pride in this choice.
It's truly incredible to witness how time has flown by, as the couple recently announced their pregnancy, and now they have gracefully embraced the journey of parenthood. The joy and disbelief of this new chapter still feel surreal to them and fill their hearts with immense happiness.
Soooooo grateful ❤️ for all the love.

Thank u my darling sisters & all our friends & family for the best baby shower. @AlwaysRamCharan pic.twitter.com/nfmxsXbGhM

— Upasana Konidela (@upasanakonidela) April 5, 2023
Telugu superstar Ram Charan and his wife, Upasana Kamineni Konidela, are eagerly anticipating the arrival of their first child after 12 years of marriage. The couple is filled with excitement and joy as they prepare to embark on the beautiful journey of parenthood. They have been sharing glimpses of their baby showers and the preparations they are making to warmly welcome their little one into the family.
In a recent Instagram post, Ram Charan and Upasana collaborated to share a special tune they created for their unborn baby. This heartfelt gesture showcases their deep love and anticipation for their soon-to-be-born child. The couple's creativity and dedication in crafting this musical piece exemplify their immense happiness and the strong bond they share as they await the arrival of their little bundle of joy.

in a heartwarming gesture, singer Kala Bhairava, known for lending his voice to the Oscar-winning song "Naatu Naatu" from the film RRR, has gifted a unique and incredibly special present for Ram Charan and Upasana Kamineni's soon-to-be-born baby. Kala Bhairava, who also played a lead role in RRR, created a special tune that holds great significance.
Ram Charan and Upasana Kamineni expressed their gratitude to the talented music composer and singer for the melodious tune. They took to social media to share a video featuring the special tune, expressing their belief that this enchanting melody will bring happiness and joy not only to their own child but also to countless children around the world.
Thank you @kaalabhairava7, for creating this tune for us. We are sure this melody will bring happiness and joy to millions of children across the globe.. pic.twitter.com/911bGK4GZz

— Ram Charan (@AlwaysRamCharan) June 19, 2023
This thoughtful gift from Kala Bhairava further highlights the love and affection surrounding Ram Charan and Upasana as they eagerly await the arrival of their baby. It showcases the connections forged within the entertainment industry and the power of music to touch hearts and spread joy.